Hydraulic Shearing Machine
Our shearing machine product has cutting size capability of 4, 6, 10, 13, and 16mm. respectively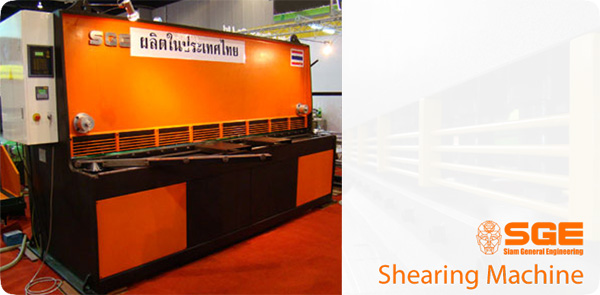 Nowadays, the capability cutting size of SGE Shearing machine are 4, 6, 10, 13, and 16mm. respectively

Auto-Backgauge
The SGE auto backgauge system is a high precision, high speed, twin ball screw unit for precise positioning and smooth movement of the gauging bar. This unit moves the backgauge to positioning entered in the PLC or CNC memory which can be programmed a step of job.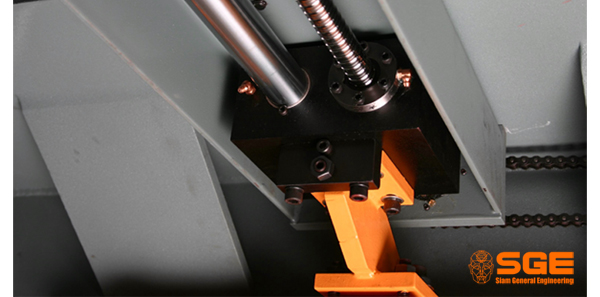 Controller
A centralized control panel contain high quality electrical components and digital micro controller, which allows operation to adjust auto backgauge, cutting angle adjustment, cutting length/stroke per minute, monitor status of machine, etc.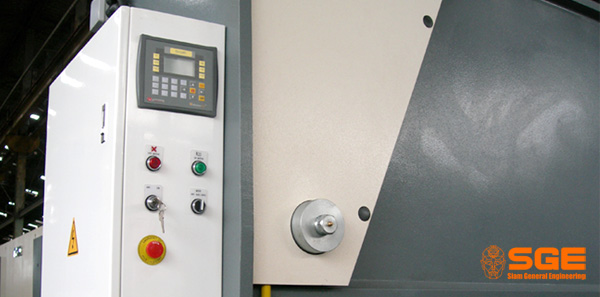 Hydraulic System
A very high quality internal gear pump with little noise and hydraulic valves are used to ensure the reliability and else of maintenance. All standard hydraulic components are carefully lay out in the easy to access way, thus availability and minimize the field services and maintenance time.
Hydraulic Cylinder
With our new design that puts the cylinder on the top of machine the results are lower system's pressure, long life time and save the cost of electric power.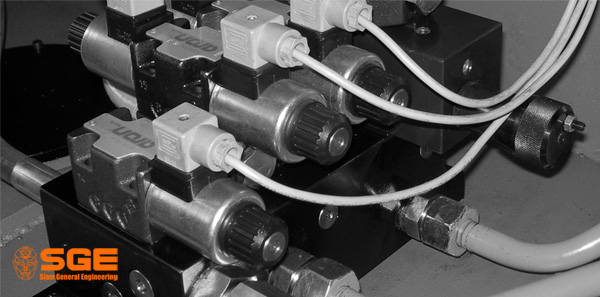 Blade
Knife is produced from high quality SKD11 steel. Moreover, provide maximum resistance and life time by hardening and grinding. SGE also support making to order for your requirement.
Plate Holder
The useful of hydraulic plate holder which clamps the plate stand on during cutting to make fine cutting surface. We design the arrangement of them to fit and suitable for small work piece.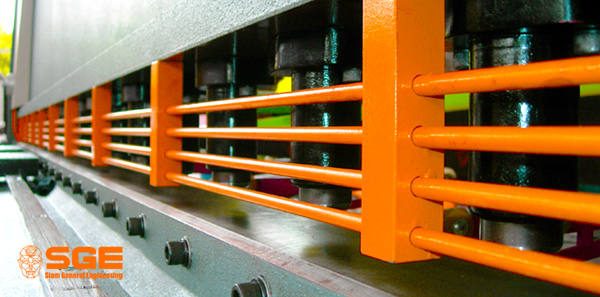 Blade Angle and Cycle time
You can adjust cutting time easily by changing on the controller. Cutting time should be short work piece that optimize your valuable time.
Blade clearance
Manually and automatic clearance adjustment are provided for the variety of metal work. Adjust clearance increase quality and lower pressure requirement.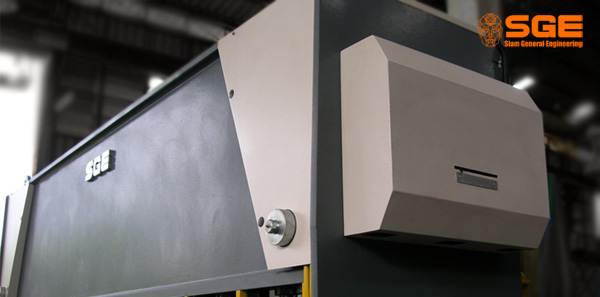 Support part
The huge plate should be supported by support part. This equipment is activating by pneumatic cylinder. It falls down after plate holder holds work plate already.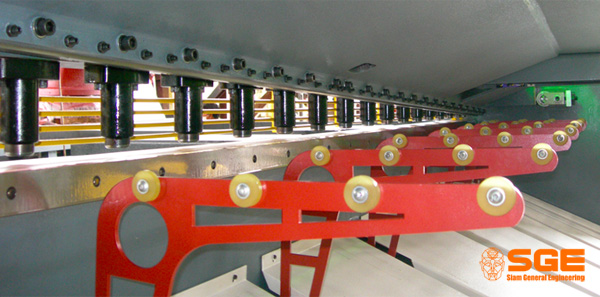 Angle Gauge
Angle gauge provided for your convenient not only 90 degree gauge.