Hydraulic Press Brake Machine
Press-Brake with strong structure, modern design, high quality hydraulic and high functional control systems that suit to your folding work.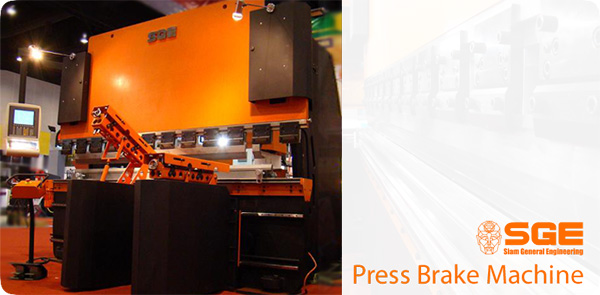 Nowadays, the sizes of SGE Press-Brake machine are varied, in order to serve the performance requirements. The capacities are designed as 40, 70, 100, 135, 150, 165, 300 ton respectively.
Frame Structure
The professionally "MIG" welded steel frame was manufactured with a ration of rigidity to weight which provides maximum resistance to deflection and torsion force. The housing frame are joining to main hydraulic oil tank, bed and reinforcement with members on both sides, featuring a completely annealed and welded structure.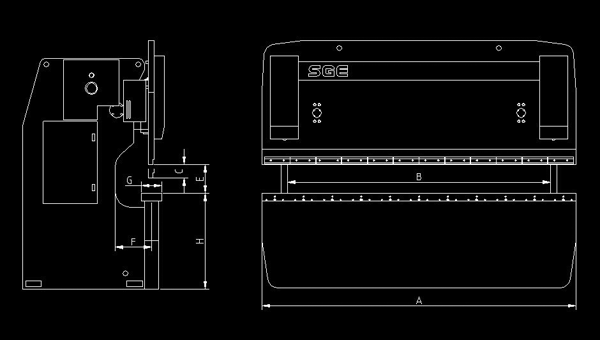 Controller
A reliable digital control panel contains all operation function required from set-up to production, including start/stop, ram up/down manual/auto operation, auto backgauge and auto depth gauge position control, etc.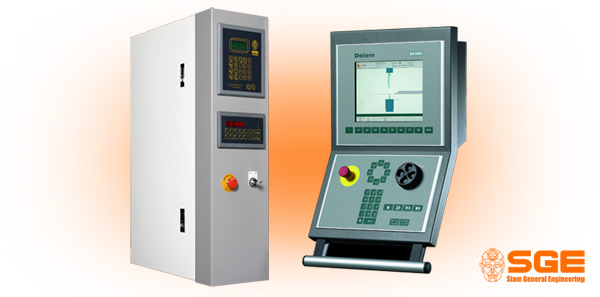 Y control
For standard model, the ram depth is set by auto depth gauge rather than by hand wheel, motorized setting, or automatic bending angle adjustment. This unit moves the depth gauge to position entered in the PLC memory. A simple but highly accurate mechanical stopper achieves the depth position.
The CNC model, the depth is controlled by CNC controller which import from Europe. That guarantee the accuracy and used-full functions are provided. Every position of ram is automatically calculated just enters the desired angle. Including the safety distance, pressure, and so on.
Crowning
The flexibility of table and bottom die depends on pressing force that can be compensating by crowning device. SGE provides motorize and hydraulic crowning with automatic or manual adjustment.
Auto-Backgauge
The SGE auto backguage system is a high precision, high speed, twin ball screw unit for precise positioning and smooth movement of the gauging bar. This unit moves the backgauge to positioning entered in the PLC or CNC memory which can be programmed a step of job.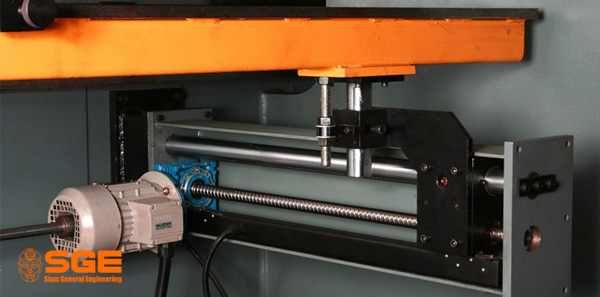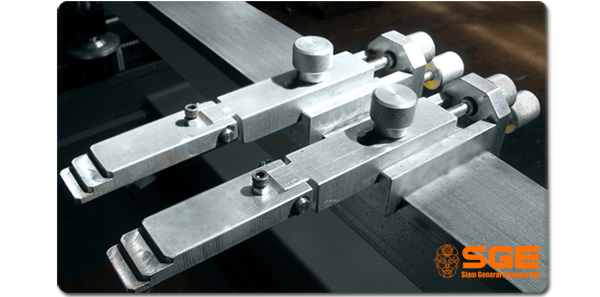 Tooling
A variety of tools featuring machining accuracy and long service life are prepared, including standard and special type, the adjustable crowning table is provided as well.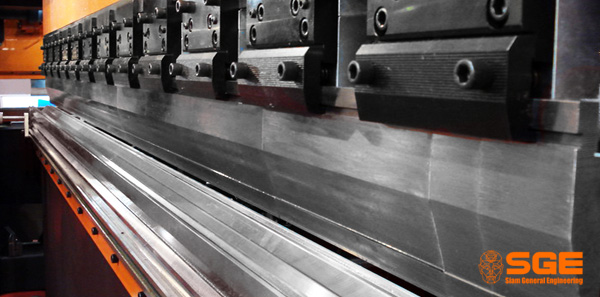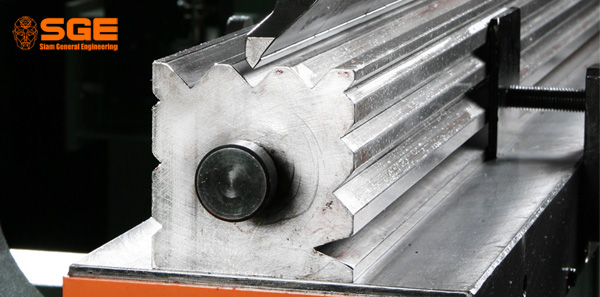 Hydraulic System
A very high quality internal gear pump with little noise and hydraulic valves are used to ensure the reliability and ease of maintenance. All standard hydraulic components are carefully layout in the easy to access way, thus availability and minimize the field service and maintenance time.
Hydraulic Cylinder
The cylinders are precision machined with high quality steel and specially designed to minimize seal interface, load concentration and ware points. Piston rods are hardened, grind and chrome finished for a very smooth and durable surface, high pressure, high quality, and low friction. Seal is standard on all PHS-T, PHS-CNC models.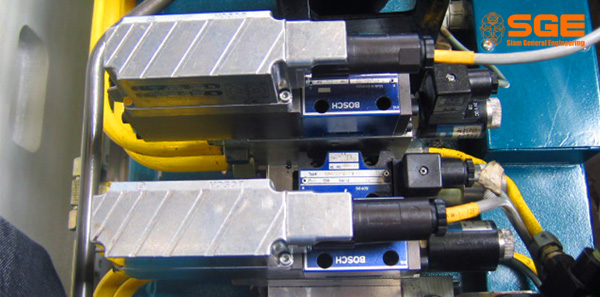 We provide Vdo show process of our product through Youtube